It was a great first day at NBEL! We had a short assembly and then the students went around the building to learn the expectations. We understand that end of the day pick up did not go as well as we had planned. Thank you for your patience. We are working to trouble shoot why our teachers could not see when you had arrived on campus. We also need your help in ensuring that you have downloaded the app and registered. If you are getting an error or it is asking for a code you will need to call Pikmykid to get everything set up. We are hearing from several parents that the customer service is great and has been very helpful. We are finding that if your phone number in Skyward does not match the one you registered it is causing an issue. You can call Pikmykid at 813-649-8028.

ATTENTION PRETZELS! Please join us for the Back to School Festival this Friday, August 20 from 3:00-6:00 at the HS. There will be activities for kids of all ages and concessions will be available for refreshments. Pretzel Football will be in action with a scrimmage kicking off at 5:30 and Pretzel Volleyball will hold an open practice/scrimmage starting at 6:00. Admission will be $1 or a Gatorade donation for our athletic programs. A special Thank You to all of our sponsors who help to make this community event possible! We hope to see everybody this Friday! Go Pretzels!!


Welcome Back! First day of school is tomorrow. Unfortunately, we will not be able to have visitors in the building. There will be several staff members to help the younger students get to their classrooms. We plan to start our day at 8:15am and we will dismiss at 2:21. Don't forget to download the Pikmykid App before pick up tomorrow. If you have any issues please contact Pikmykid at
success@pikmykid.com
.

Tonight is "Unpack Your Backpack" for 2nd-5th grade. We are excited to meet our students before the first day. See everyone from 6:00-7:00pm!

Free Covid-19 Vaccine Clinic on August 21 10- Noon in the JH/HS Cafeteria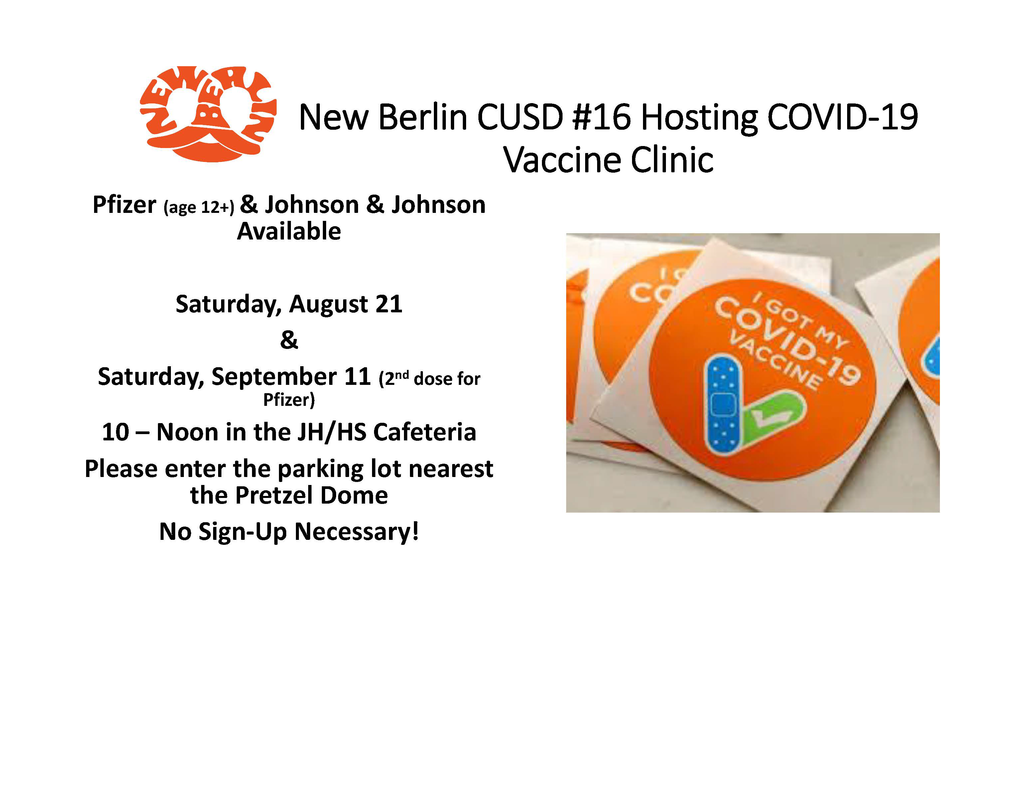 We are excited to see kindergarten, first grade and structured classroom students tonight from 6:00-7:00pm for "Unpack Your Backpack". If you have not already downloaded the Pikmykid App and registered please do as soon as possible. Happy Monday!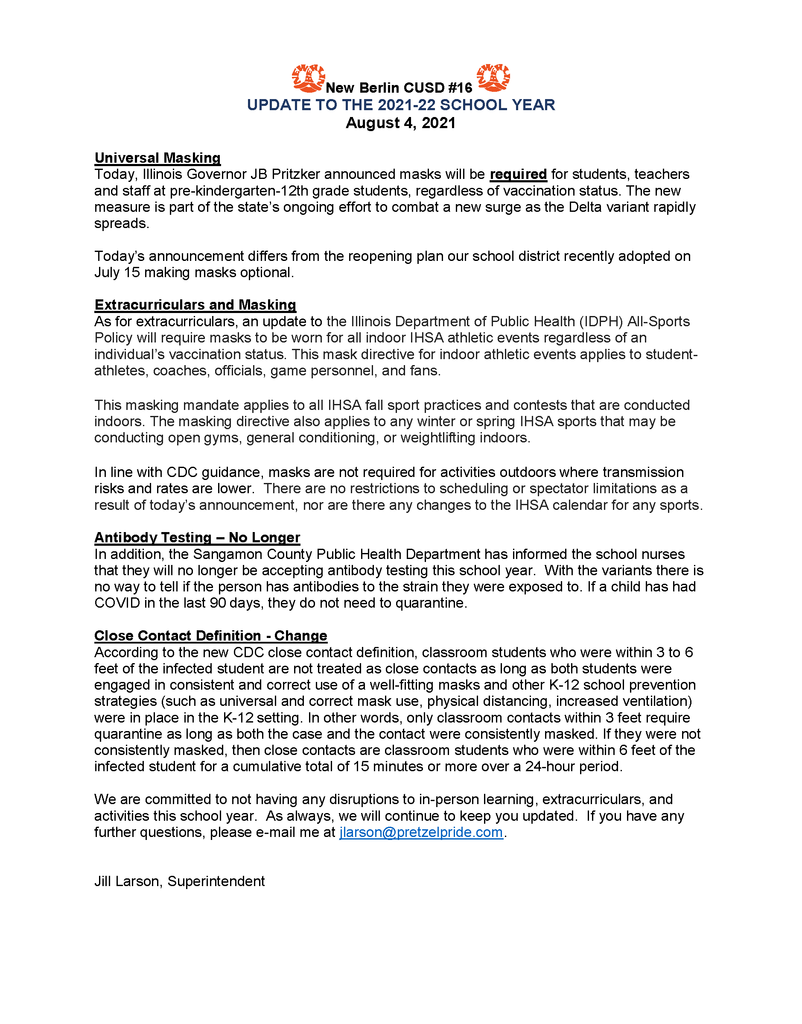 New Berlin CUSD #16 has employment opportunities for many different positions. If you are looking for some extra income or want to be a part of a great school district, apply today!!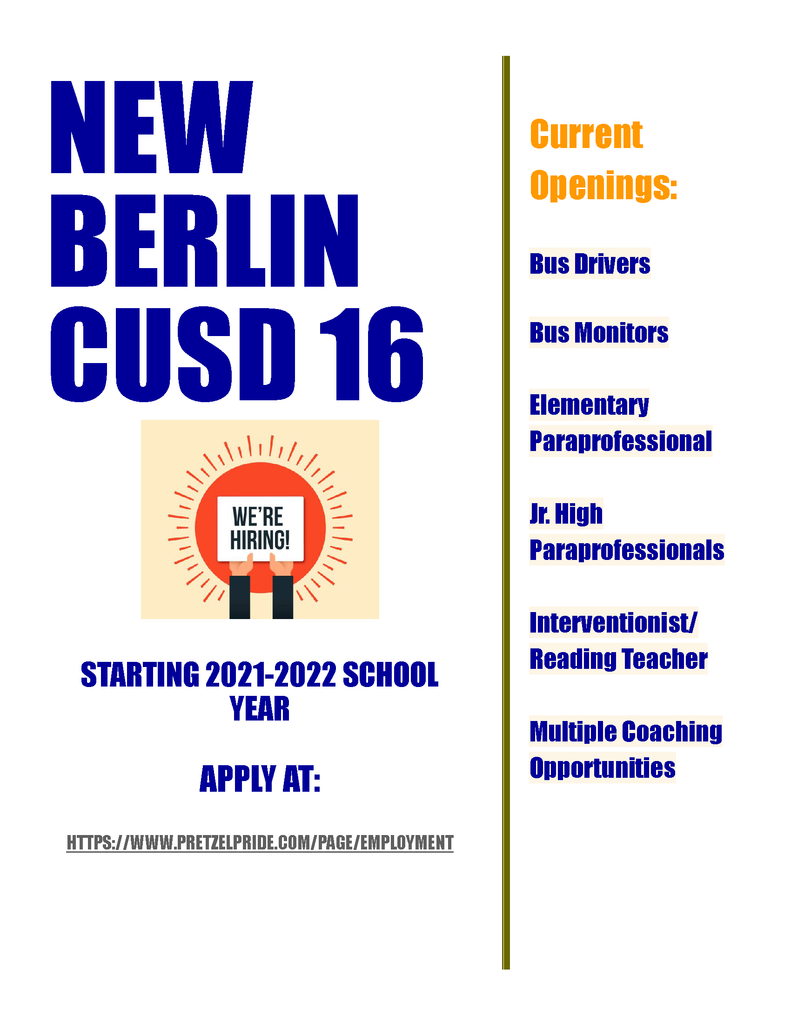 Loami Food Pantry will be giving out school supplies on Sunday August 8th from 10-12p.m. at the Old Village Hall in Loami. They are requiring masks.



The District and Facilities survey expires at midnight tonight. If you or anyone you know who resides in the district has not taken the survey please take a few minutes to share your opinion.
https://www.surveymonkey.com/r/NewBerlinSurvey

Share Your Comments! Help to make the New Berlin CUSD's next long-range facility improvement plan successful. If you live in the District share your opinions about our district and facilities. Take the survey online:
https://www.surveymonkey.com/r/NewBerlinSurvey



The facility planning survey is an opportunity for those who reside in the New Berlin School District to share opinions about the district and facilities. If you know someone who does not have access to internet please have them contact the District Office for other options.
https://www.surveymonkey.com/r/NewBerlinSurvey


2019-2020 NBHS Yearbooks have arrived! Yearbook pick-up will be this week Tuesday-Friday from 9-12 @ the HS Office. If you need to make other arrangements, email
jspann@pretzelpride.com
. Thank you!